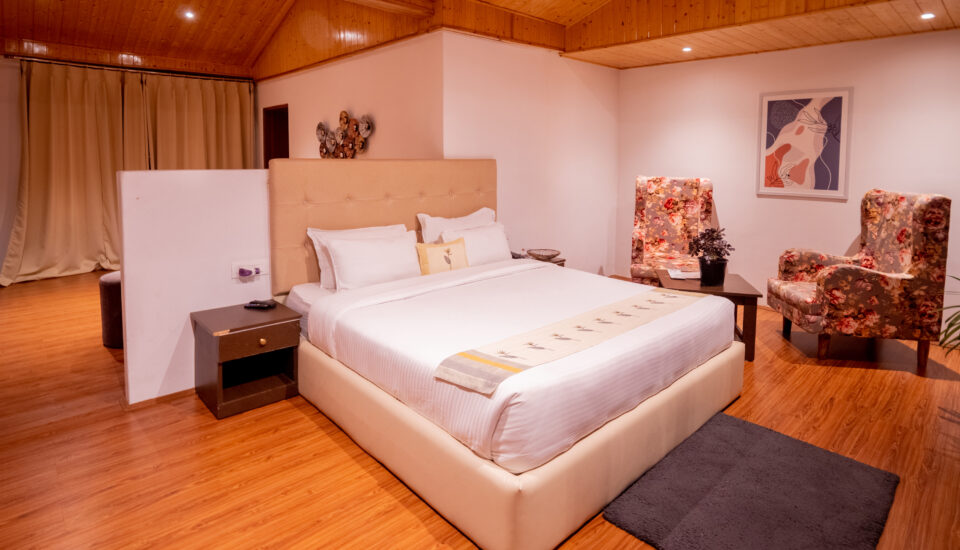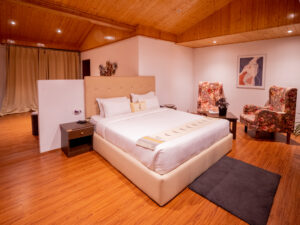 Absorb the alluring sight of Kanchenjunga as soon as you wake up in your lavish bed. Kaya Resort and Spa takes pride in its finest Premium Suite and luxury Private Cottages.
The resort has 5 Premium Suite rooms each featuring a sunset balcony that captures the breathtaking view. 
Check-in from 12:00 PM - anytime

Early check-in subject to availability

Minimum check-in age - 18
Check-out before noon

Express check-out
Special check-in instructions
Guests will receive an email 5 days before arrival with check-in instructions; front desk staff will greet guests on arrival For more details, please contact the property using the information on the booking confirmation.
Children and extra beds
Children are welcome Kids stay free! Children stay free when using existing bedding; extra beds are available for INR 1300 per day
7
CP
General price:
₹

11700 / night
8
CP
General price:
₹

11700 / night
9
CP
General price:
₹

11700 / night
10
CP
General price:
₹

11700 / night
11
CP
General price:
₹

11700 / night
12
CP
General price:
₹

11700 / night
13
CP
General price:
₹

11700 / night
14
CP
General price:
₹

11700 / night
15
CP
General price:
₹

11700 / night
16
CP
General price:
₹

11700 / night
17
CP
General price:
₹

11700 / night
18
CP
General price:
₹

11700 / night
19
CP
General price:
₹

11700 / night
20
CP
General price:
₹

11700 / night
21
CP
General price:
₹

11700 / night
22
CP
General price:
₹

11700 / night
23
CP
General price:
₹

11700 / night
24
CP
General price:
₹

11700 / night
25
CP
General price:
₹

11700 / night
26
CP
General price:
₹

11700 / night
27
CP
General price:
₹

11700 / night
28
CP
General price:
₹

11700 / night
29
CP
General price:
₹

11700 / night
30
CP
General price:
₹

11700 / night
31
CP
General price:
₹

11700 / night
1
CP
General price:
₹

11700 / night
26
CP
General price:
₹

11700 / night
27
CP
General price:
₹

11700 / night
28
CP
General price:
₹

11700 / night
29
CP
General price:
₹

11700 / night
30
CP
General price:
₹

11700 / night
31
CP
General price:
₹

11700 / night
1
CP
General price:
₹

11700 / night
2
CP
General price:
₹

11700 / night
3
CP
General price:
₹

11700 / night
4
CP
General price:
₹

11700 / night
5
CP
General price:
₹

11700 / night
6
CP
General price:
₹

11700 / night
7
CP
General price:
₹

11700 / night
8
CP
General price:
₹

11700 / night
9
CP
General price:
₹

11700 / night
10
CP
General price:
₹

11700 / night
11
CP
General price:
₹

11700 / night
12
CP
General price:
₹

11700 / night
13
CP
General price:
₹

11700 / night
14
CP
General price:
₹

11700 / night
15
CP
General price:
₹

11700 / night
16
CP
General price:
₹

11700 / night
17
CP
General price:
₹

11700 / night
18
CP
General price:
₹

11700 / night
19
CP
General price:
₹

11700 / night
20
CP
General price:
₹

11700 / night
21
CP
General price:
₹

11700 / night
22
CP
General price:
₹

11700 / night
23
CP
General price:
₹

11700 / night
24
CP
General price:
₹

11700 / night
25
CP
General price:
₹

11700 / night
26
CP
General price:
₹

11700 / night
27
CP
General price:
₹

11700 / night
28
CP
General price:
₹

11700 / night
29
CP
General price:
₹

11700 / night
30
CP
General price:
₹

11700 / night
31
CP
General price:
₹

11700 / night
1
CP
General price:
₹

11700 / night
2
CP
General price:
₹

11700 / night
3
CP
General price:
₹

11700 / night
4
CP
General price:
₹

11700 / night
5
CP
General price:
₹

11700 / night
30
CP
General price:
₹

11700 / night
31
CP
General price:
₹

11700 / night
1
CP
General price:
₹

11700 / night
2
CP
General price:
₹

11700 / night
3
CP
General price:
₹

11700 / night
4
CP
General price:
₹

11700 / night
5
CP
General price:
₹

11700 / night
6
CP
General price:
₹

11700 / night
7
CP
General price:
₹

11700 / night
8
CP
General price:
₹

11700 / night
9
CP
General price:
₹

11700 / night
10
CP
General price:
₹

11700 / night
11
CP
General price:
₹

11700 / night
12
CP
General price:
₹

11700 / night
13
CP
General price:
₹

11700 / night
14
CP
General price:
₹

11700 / night
15
CP
General price:
₹

11700 / night
16
CP
General price:
₹

11700 / night
17
CP
General price:
₹

11700 / night
18
CP
General price:
₹

11700 / night
19
CP
General price:
₹

11700 / night
20
CP
General price:
₹

11700 / night
21
CP
General price:
₹

11700 / night
22
CP
General price:
₹

11700 / night
23
CP
General price:
₹

11700 / night
24
CP
General price:
₹

11700 / night
25
CP
General price:
₹

11700 / night
26
CP
General price:
₹

11700 / night
27
CP
General price:
₹

11700 / night
28
CP
General price:
₹

11700 / night
1
CP
General price:
₹

11700 / night
2
CP
General price:
₹

11700 / night
3
CP
General price:
₹

11700 / night
4
CP
General price:
₹

11700 / night
5
CP
General price:
₹

11700 / night
27
CP
General price:
₹

11700 / night
28
CP
General price:
₹

11700 / night
1
CP
General price:
₹

11700 / night
2
CP
General price:
₹

11700 / night
3
CP
General price:
₹

11700 / night
4
CP
General price:
₹

11700 / night
5
CP
General price:
₹

11700 / night
6
CP
General price:
₹

11700 / night
7
CP
General price:
₹

11700 / night
8
CP
General price:
₹

11700 / night
9
CP
General price:
₹

11700 / night
10
CP
General price:
₹

11700 / night
11
CP
General price:
₹

11700 / night
12
CP
General price:
₹

11700 / night
13
CP
General price:
₹

11700 / night
14
CP
General price:
₹

11700 / night
15
CP
General price:
₹

11700 / night
16
CP
General price:
₹

11700 / night
17
CP
General price:
₹

11700 / night
18
CP
General price:
₹

11700 / night
19
CP
General price:
₹

11700 / night
20
CP
General price:
₹

11700 / night
21
CP
General price:
₹

11700 / night
22
CP
General price:
₹

11700 / night
23
CP
General price:
₹

11700 / night
24
CP
General price:
₹

11700 / night
25
CP
General price:
₹

11700 / night
26
CP
General price:
₹

11700 / night
27
CP
General price:
₹

11700 / night
28
CP
General price:
₹

11700 / night
29
CP
General price:
₹

11700 / night
30
CP
General price:
₹

11700 / night
31
CP
General price:
₹

11700 / night
27
CP
General price:
₹

11700 / night
28
CP
General price:
₹

11700 / night
29
CP
General price:
₹

11700 / night
30
CP
General price:
₹

11700 / night
31
CP
General price:
₹

11700 / night